🇺🇦San Francisco Linux Users' Group
The next meeting is on Sunday December 3rd, from 11:00 AM till 1:00 PM, at:
virtual+physical:

virtual remains:
https://meet.jit.si/sf-lug.org
Browser: one will need sufficiently recent version of, e.g. Chromium, Chrome, or possibly Firefox - in any case one that well supports WebRTC.
Dial-in (audio alternative or audio only): +1.512.647.1431 PIN: 524 338 639#

physical:
at the Cafe Enchante, on Geary at 26th Ave in San Francisco.
SF-LUG meetings are the first Sunday of the month, 11:00 AM to 1:00 PM. Occasionally we may call a meeting at some other place or time.

SF-LUG is a discussion group that focuses on Linux and related open source technologies and news. We often have some great talks together. It's different from listening to a lecture and often more fun (we each get to talk). Topics vary from meeting to meeting, free form, sometimes with multiple simultaneous topics ranging from communities to technologies, including Linux, gnu toolkit, services and clients, freeBSD, MacOS, and Solaris.

Members are anyone belonging to the sf-lug mailing list. Anyone interested in Linux may join the sf-lug mailing list: sf-lug mail list.

Policies: Anything goes (per discussion among initial members summer 2004), except:

Job Postings: current policy is job posters use email to submit job postings to jim at well dot com and jim will post your listing to the sf-lug mailing list. Postings should include the job title, salary range, and city in which the job is located in the first sentence. Five paragraphs, no hyperbole, just a to-the-point job description and skills requirements list with company policies and benefits followed by contact information. ASCII only, no Word doc files.

Projects include:
Maintain the SF-LUG machine/host and our web site.


Support persons and groups interested in using Linux and Free and Open Source Software.


Support the Partimus project, which provides open source support to educational institutions.


Bay Area Linux Users Group (BALUG) meets in San Francisco generally on the third Tuesday of each month.
---
Hosting:
---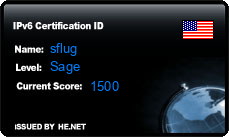 ---
For more information about SF-LUG contact Bobby Sellers or jim stockford
---
Last Modified: 2022-02-27T12:51:23-0800